(PLA)Polylactic Plastic Sheet
(PLA)Polylactic acid is a resin made from crops with high starch content such
as corn and potato. PLA is biodegradable and fully compostable. It uses 65%
less energy to produce than conventional oil-based plastics and generates
68% fewer greenhouse gasses and contains no toxins.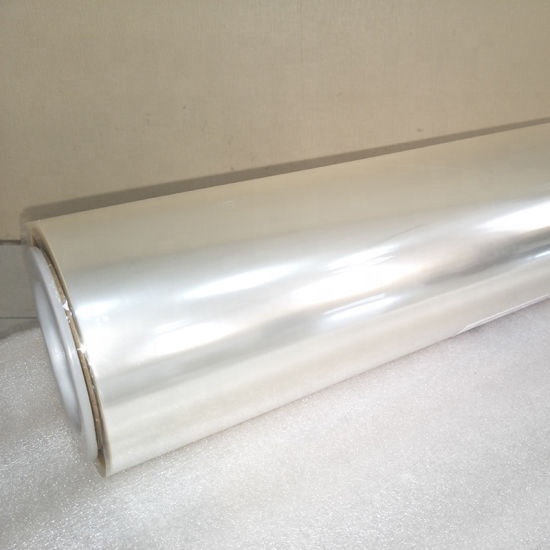 Features of PLA
1.sufficient source of raw materials
Conventional plastics are made from petroleum, whereas PLA is derived from renewable material such as corn, and thus preserves the global resources, such as petroleum, woods etc. It's strategically significant to modern China which rapidly demands resource especially petroleum.
2.Low energy consumption
During production process of PLA, the energy consumption is as low as 20-50% of petroleum-based plastics(PE, PP etc.)
3.100% biodegradable and Eco-friendly
The main character of PLA is 100 biodegradable which will be decomposed into carbon dioxide and water under certain temperature and humidity. The decomposed substance is sompostable which facilitates plant growth.
4.Excellent physical properties.
Melting point of PLA is the highest among all kinds of biodegradable polymer. It possesses high crystallinity, transparency and can be processed through injection and thermoforming.
Application of PLA
Applying biodegradable and compostable PLA in various products manufacturing is the best way to resolve the global problem of environmental condition degradation.
PLA has the same chemical properties as other petroleum-based plastics and
hence can be widely applied in industrial, agricultural as well as medical spheres. It can be used for manufacturing of diversified products from
disposable cutlery to packaging products.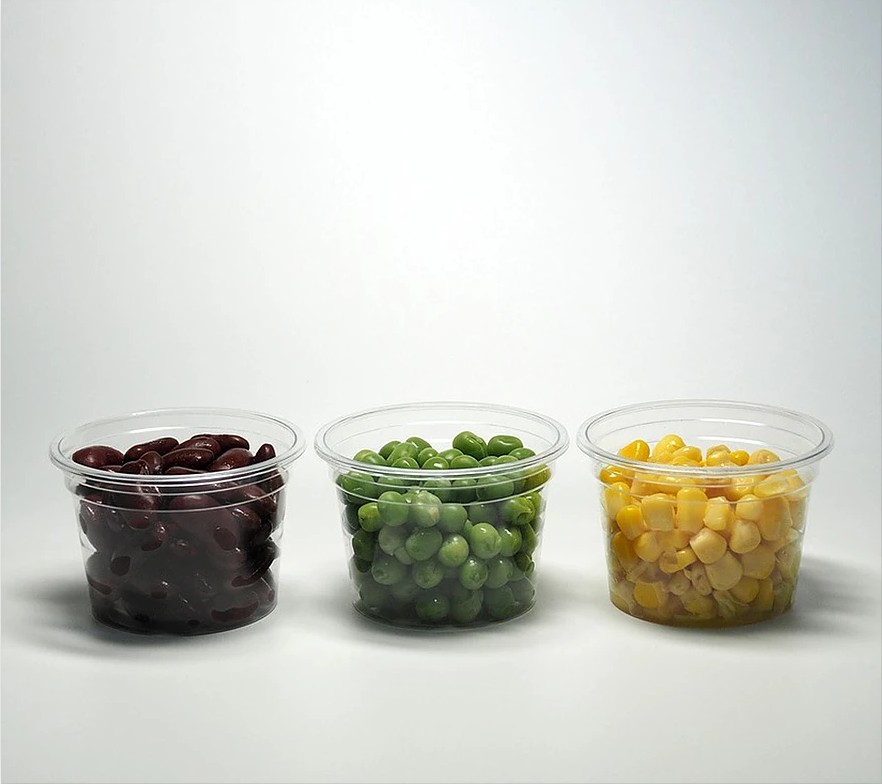 Comparison between PLA and petroleum- based plastic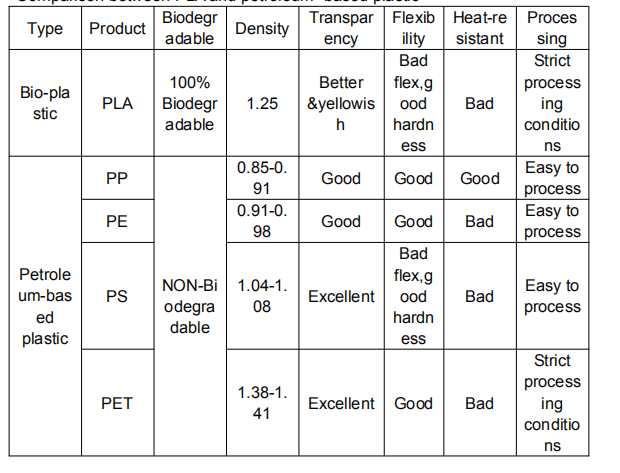 FAQ of PLA
1.Why PLA is also called Corn plastic?
As PLA is derived from natural, renewable starch rich crop such as corn,potato.
2.How does PLA decompose?
Under compost condition PLA will decompose into lactic acid when polymers are broken down. Lactic acid will decompose into water and carbon dioxide by bacteria.
3.How long dose it take for PLA to decompose?
It will take 90-180days under compost condition according to different size and thickness of the products.
4.What is compost condition?
Compost condition refers to the co-existence of three key elements:
1.High temperature(58-70℃)
2.High humidity.
3.Bacteria must co-exist
Will PLA products start decompose under normal temperature?

No, it will not. Same as the petroleum-based plastic products, PLA products can be used under normal condition. However, as PLA is not heat-resistant. It is recommended to be used under the temperature of 50℃。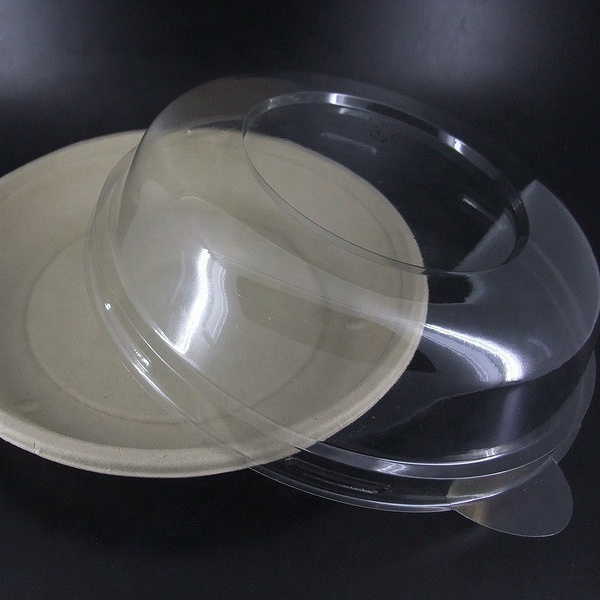 Any special precaution for PLA storage and delivery?
1.Storage: Dry, ventilated and cool environment with optimal temperature under 40℃.
2.Delivery. Prevent from direct sunshine and pressing, use strong carton box, control temperature during container load by applying insulated materials.
3.Can our existing machine and molds for petroleum-based plastic products produce PLA products? Yes. Machine and molds for petroleum-based plastic products can produce PLA products by adjusting the mol temperature and relevant production techniques as per the characteristics of PLA.
Which areas shall we pay attention during the production of PLA products?
1.Temperature
2.Pressure
3.Moisture content of the material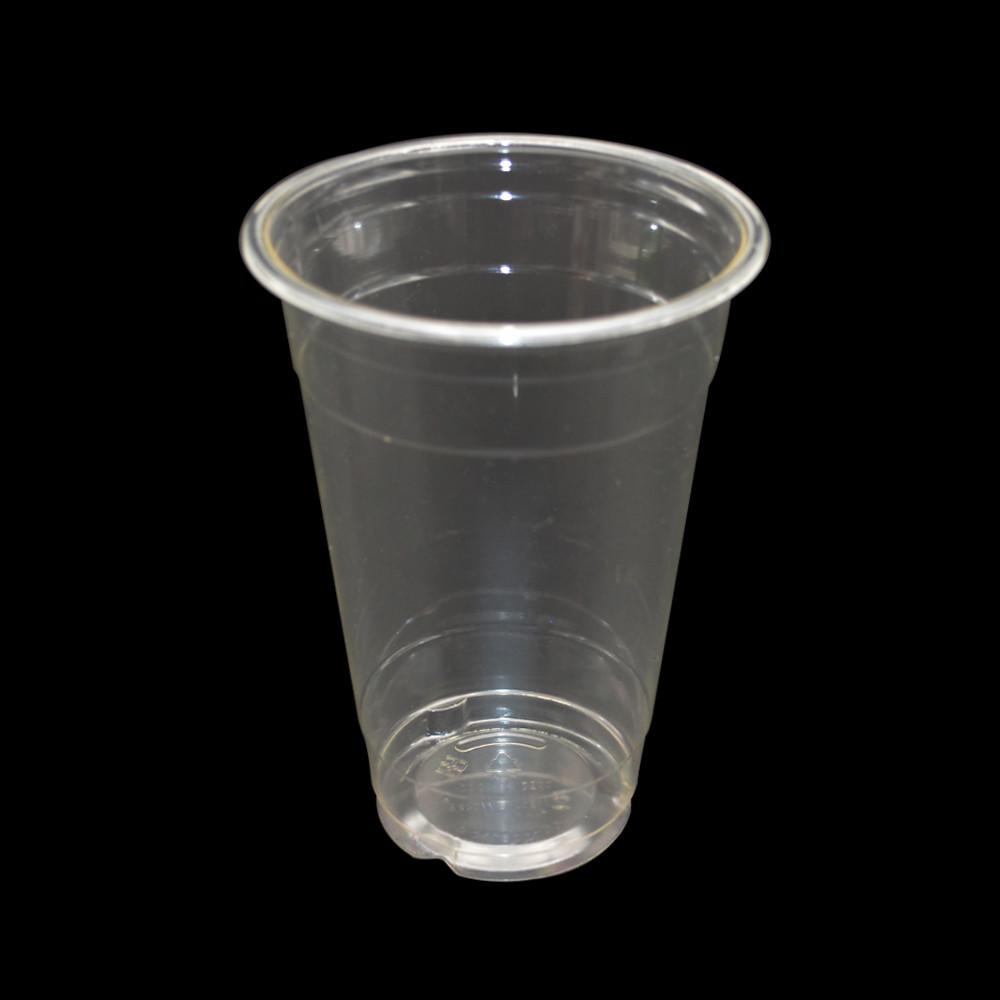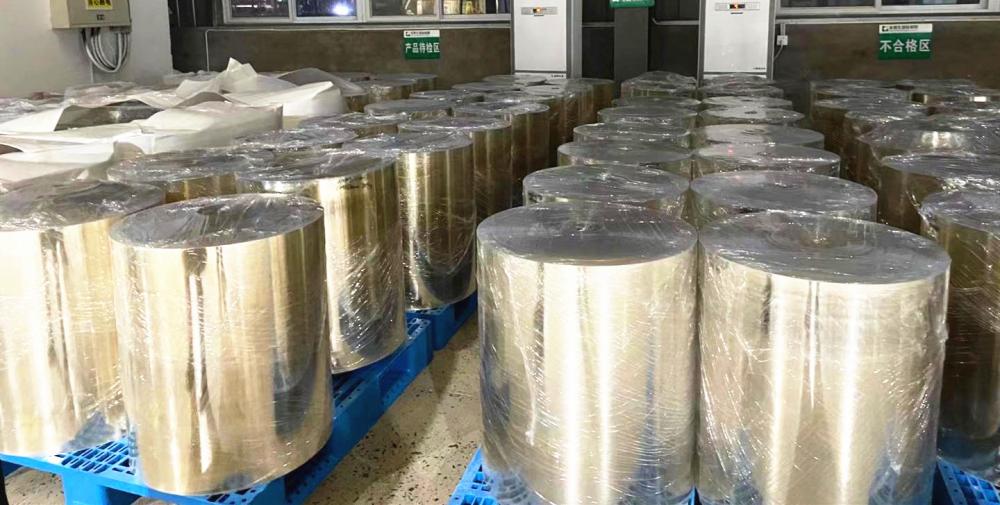 Our factory mianly products :
PVC Film
PET PETG Rigid Film
HIPS Film
PC polycarbonate Film
PP Film
PS Film
Face Shield
PLA/polylactic Acid Film
Composite Plastic Film
Looking for ideal PLA Plastic Sheet 0.5mm Manufacturer & supplier ? We have a wide selection at great prices to help you get creative. All the PLA Polylactic Plastic Sheet are quality guaranteed. We are China Origin Factory of 2mm PLA is Biodegradable. If you have any question, please feel free to contact us.