one side matte/fine matte polycarbonate films. Offer high temperature resistance, excellent dimensional stability, as well as good printability without pre-treatment making them excellent films for multi-layer printing for applications such as overlays, floor graphics, high-performance labels and in-mould decoration. Can be screen printed using traditional solvent based or water based inks, as well as UV or infrared drying inks and offer ease of processing for thermoforming, embossing, die-cutting, hydro-forming and bending.
Main products of TH8 series polycarbonate film
product type
TH8—Universal series
THF—Non-halogen flame retardant series
TH6—Function series







model number

Texture

color

TH811

Glossy/Glossy

High transparency

TH831

Matte/Glossy

semitransparent

TH815

Glossy/Nakasago

semitransparent

TH832

Matte/Fine sand

semitransparent

TH835

Matte/Nakasago

semitransparent

TH825

Fine sand

/Nakasago

semitransparent

TH835B

Matte/Nakasago

black

TH835W

Matte/Nakasago

white
Advantages of TH8 materials polycarbonate film
·Best light transmittance among similar plastics, reach more than 90% 。
·High scratch resistance of Matte material ,Can adapt to high-strength scratching environment。
·Superior printability,Toughness,Dimensionally stable,Not easily deformed

Application field of TH8 materials
·Membrane switch and control panel of electronic products;Nameplate identification;helmet、face mask;Toy model;
Dials of various instruments。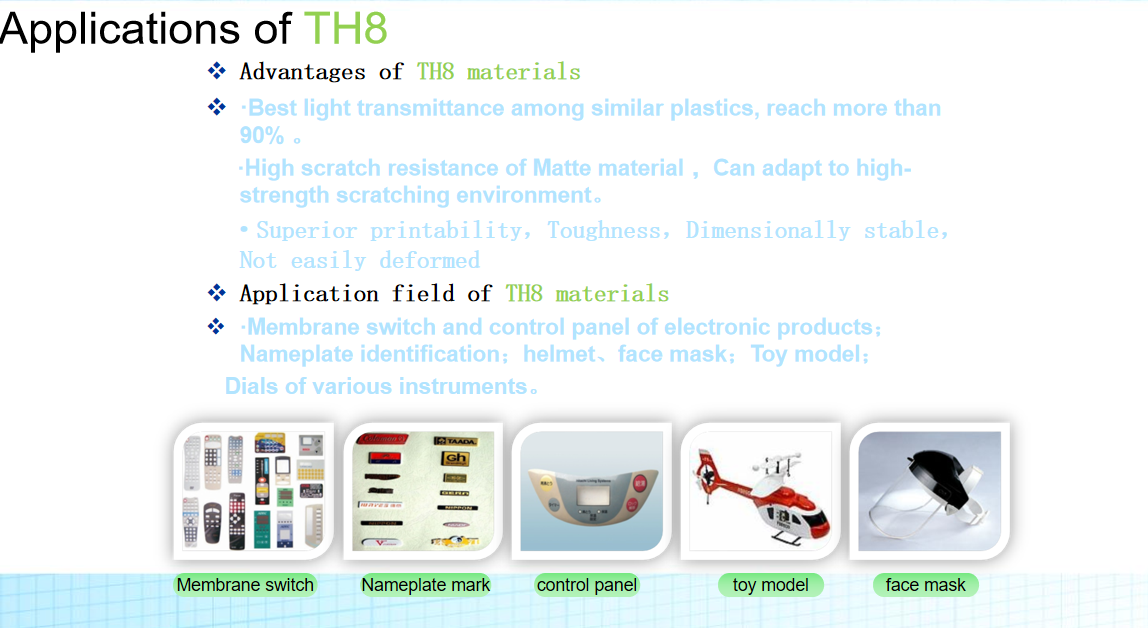 Card base function series polycarbonate film
| | | | |
| --- | --- | --- | --- |
| model number | texture | function | color |
| TH832J | Dumb face/Fine sand | Laser engraving、digital printing | semitransparent |
| TH832W | Dumb face/Fine sand | Magnetic card core layer | Original white |
| TH832 | Dumb face/Fine sand | Magnetic card surface layer | semitransparent |
| | | | |
Applications of Kaki polycarbonate film

Advantages of Kaki materials
·Meet the environmental requirements,won't hurt human bodies when use it.
·Good stability of processing size.
·Can implant chips, laser engraving, digital printing, etc.。
Application field of Kaki materials
·Widely used in the production of various cards。
driver license、Driving license、Visa card、ID card etc.。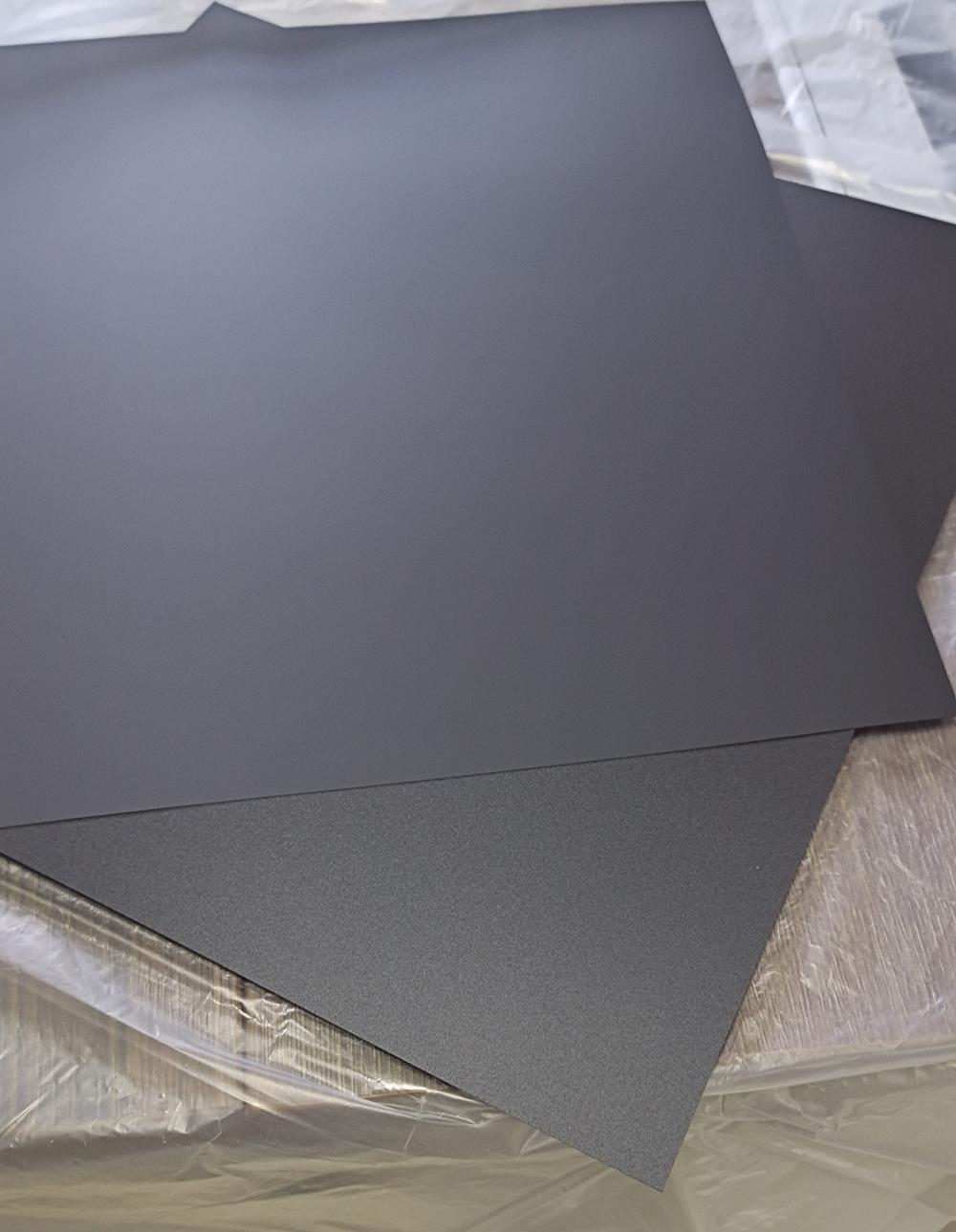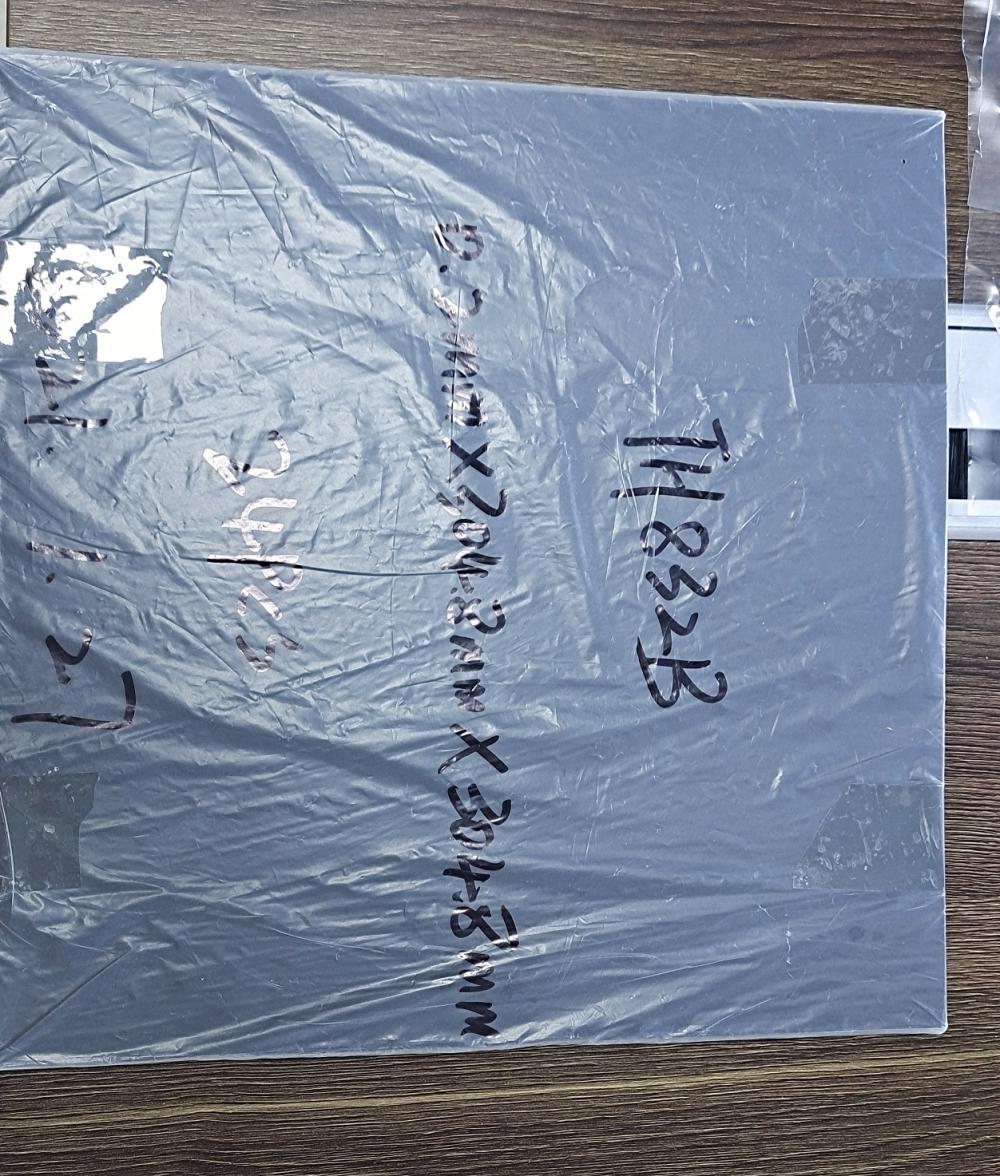 Model

mm

inch

Packaging

Thickness

mm

Width X Lengthmm×m

Thickness

inch

Width X Length Foot×Foot

TH831

0.125

930×640.5

0.005″

3′×2100′

Roll

1220×640.5

4′×2100′

0.175

930×457.5

0.007″

3′×1500′

1220×457.5

4′×1500′

0.250

930×327.8

0.010″

3′×1075′

1220×327.8

4′×1075′

0.375

930×228.75

0.015″

3′×750′

1220×228.75

4′×750′

0.500

930×175.4

0.020″

3′×575′

1220×175.4

4′×575′
Model

mm

inch

Packaging

Thickness

mm

Width X Length mm×m

Thickness

inch

Width X Length Foot×Foot

TH83




1

0.30

915×1830

0.012″

3′×6′

Sheet

0.40

915×1830

0.016″

3′×6′′

0.50

915×1830

0.020″

3′×6′

0.70

915×1830

0.028″

3′×6′

0.80

915×1830

0.032″

3′×6′

1.00

915×1830

0.040″

3′×6′